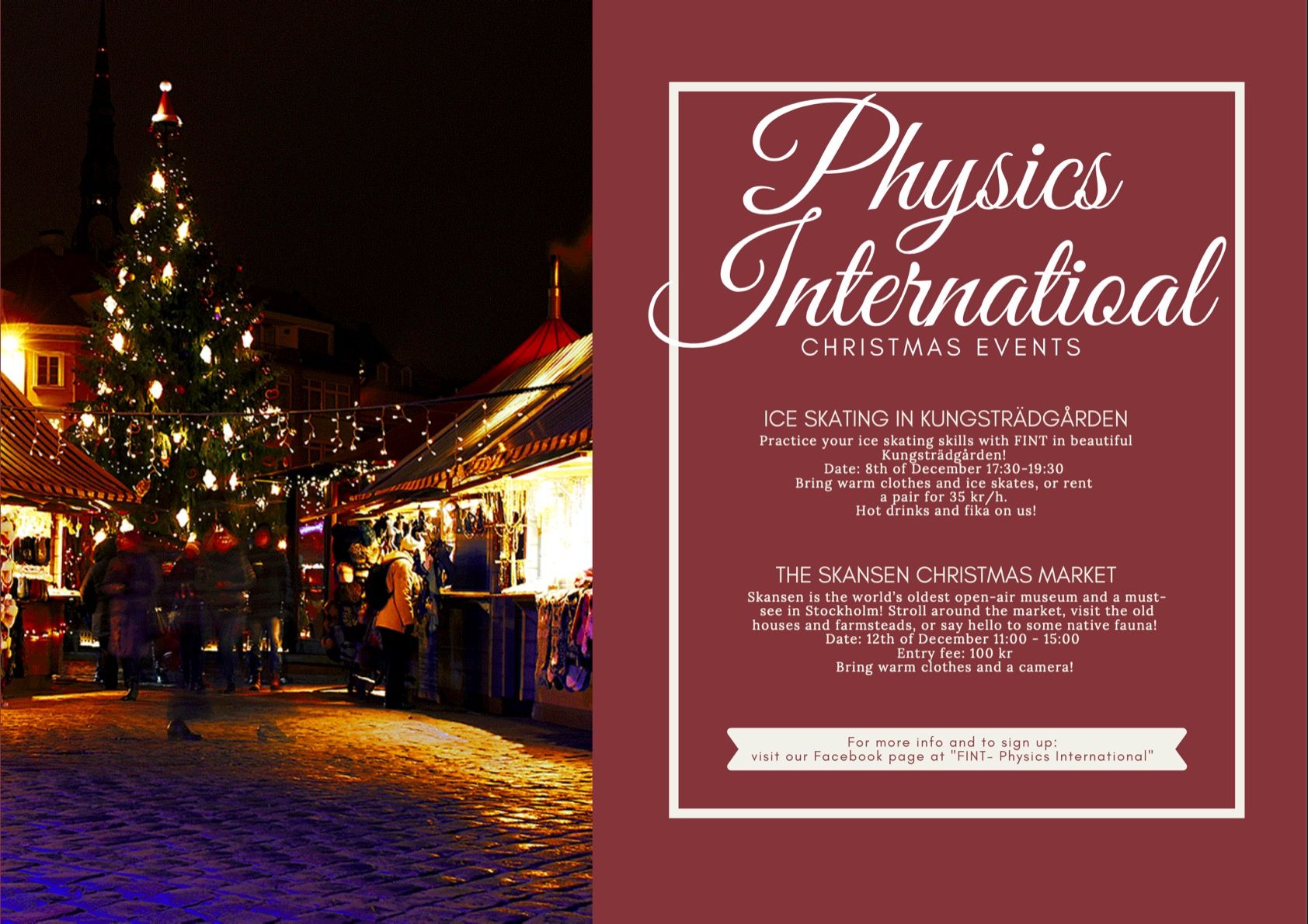 We in FINT – Physics International are inviting you for some holiday fun!
ICE SKATING IN KUNGSTRÄDGÅRDEN
On the 8th of December between 17:30 – 19:30, we're going ice skating in Kungsträdgården. It's free of charge if you got your own pair of ice skates and if you need to rent a pair you can do it for 35 kr/h. We'll be treating you with some hot drinks and fika, simply fill in the questionnaire.
Bring warm clothes!
https://forms.gle/gVoG8LnbXt3B2JPX7
What is Kungsträdgården?
Kungsträdgården translates to King's garden and is one of Stockholms oldest public parks. Located in central Stockholm, its no wonder that it is one of the most popular meeting spot in StockholmIn summer it hosts concerts and events while during the winter months it's all about ice skating.
CHRISTMAS MARKET IN SKANSEN
For the 12th of December we're visiting Skansens Christmas Market. We'll enter together at 11:00 and then you'll be free to explore the site and maybe even buy one or more gifts for friends and family. The entry fee is 100 kr for this event. Bring warm clothes, a camera and maybe some extra money.
What is Skansen?
Skansen is the world's oldest open-air museum and a must-see in Stockholm. During winter it hosts a very popular Christmas Market which is turning 130 years this year! Here you can stroll around the market, visit old houses and farmsteads, or maybe say hello to some native fauna!
If you have any questions please contact, international@f.kth.se
Hopefully we'll see you there!

Kind regards, FINT